Music: Scanner Darkly - Simulated Universe (Awesomer Simulacremix) 
Artists: Scanner Darkly, Awesomer 
Label: Deep Tech Recordings 
Released: 16 July 2021
Here in part 4, San Francisco's Awesomer describes his remix approach from the Massive (Native Instruments) bassline to tribal house rhythms.
Previously in part 3, we asked Ri Caragol about his use of MPC and analog synths in his productions. The DC-based producer, by way of Puerto Rico and New York, prefers to stay clear of hearing the original track and creating his remixes with hardware. 
Back in part 2, I asked Chairman (Andrew Kopca), about his creative process behind his remix, which won first place in the Headroom Listening Sessions contest for the "Simulated Universe" remixes. 
In part 1 of this blog series, we discussed the initial concept ideas and starting points for the "Simulated Universe" remixes with Deep Tech Recordings founder, Wayne Wright, and the original artist, Scanner Darkly.
Lossless Format Nearly Lost
Wayne Wright: "We had some familiar faces place in the top 4, but we also had a breakthrough submission that came in FLAC format that I initially almost didn't listen to. Luckily my Mac reads FLAC format and we discovered a great submission by Awesomer. This track as it was mixed down initially was a little rough but we [revisited] the mix and ended up releasing it on the label. I really dig his submission and I'm proud to have it on the label. It was a really nice addition. Congratulations to him!"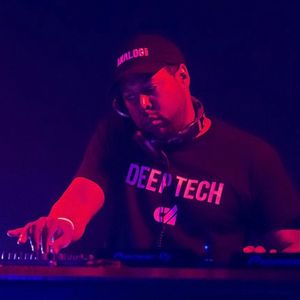 Wayne Wright, Deep Tech Recordings
From Deep Tech to Deep House 
Awesomer: "When I heard the Scanner Darkly original, I really liked the sound design and atmosphere and found myself zoning out to it. My favorite deep and minimal techno, however, is driven as much by the bassline as the original is by percussion and synths. Taking inspiration from Gui Boratto, Trentemøller and Michael Mayer, my remix adds a deep bassline and a new melodic synth line. My background as a producer and remixer is a little more towards house music than techno, and so the drums have a touch of that deep house flavor."
That Massive Bass 
Awesomer: "I produce in Ableton Live, almost entirely "in the box" and with a minimum of third party plugins. I've found that limiting the number of third party plugins has forced me to be extra creative with combinations of the builtin effects. The new bassline and synth are both produced by Native Instruments Massive, which is my go-to third party soft-synth."
Editor's note: For better or worse, Native Instruments Massive arguably comprised that late 2000s dubstep sound more than any other virtual instrument. It's a highly versatile software wavetable synth with all sorts of options for modulation and envelopes that can be applied to just about any parameter, plus effects. Aside from wobble bass and aggressive leads, it's a fun instrument for learning sound design (thanks Heinrich Zwahlen and Astrolith).
A Massive tutorial from Point Blank Music School:
Loops on Loops on Tribal Beats 
Awesomer: "This particular remix was an interesting challenge because the stems contained in the remix package consisted of a relatively large (around 20?) number of short loops. This gave the remix process a character that was more like producing an original track than the typical remix, making it more about layering loops and creating new variations than loop-finding in the original track. The original also didn't have a large amount of melodic content, which made it non-trivial to ensure that my new highly melodic elements were in key and fit well with the samples. 
Other than the new bassline, my favorite new element is a tribal percussion pattern, which was previously more of an explicit breakbeat. Upon listening to a work in progress, my DJ partner and production sounding board, DJ Cira, encouraged me to replace that element with something less break-y and more tribal, and the genre coherence of my remix was greatly improved as a result."
Construction Time Again, Working on the Pipeline
Awesomer: "I have lots of original tracks, remixes and collaborations in the pipeline, and so 2021 will feature a lot of new Awesomer music. DJs should also check out my 'Awesomer Edits' Bandcamp, which features DJ edits of some of my favorite tracks, subtly edited to improve their DJ-ability. 
Shout outs to the aforementioned DJ Cira, Matt Cheez, the Headroom listening collective... and of course Mr. Wright and Scanner Darkly for the opportunity to remix the excellent original!"
More from Awesomer: https://soundcloud.com/awesomer