Washington, DC - Jonathan Lim is a keyboard player, electronic music producer, remix artist and DJ who comprises one-half of the synthwave duo, Velocity 128. His music focuses on creating melodic tracks influenced by new wave, alternative rock, and electronic music from the 1980s and 90s with current production techniques. Jonathan continues to collaborate with rock and electronic musicians from the DC area and elsewhere. Velocity 128 continues its residency at Betamax Video Club (a monthly event of b-movies and live synthwave) in Washington, DC in addition to performances elsewhere.
Previously, as a keyboard player and co-songwriter for the electronic rock band, 23RAINYDAYS, Jonathan Lim toured across the United States and received media attention in 2009 when MTV selected the band as a Top 3 Breakout Artist. 
Jonathan Lim's music releases, DJ sets, other media, and updates can be found at https://jonathan23rd.com.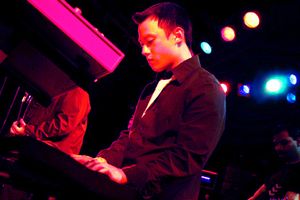 Photo by Kaley at the Roxy, Los Angeles, 2006