This debut EP by Velocity 128 (Eric Garwood and Jonathan Lim) was inspired by live production, synths, and drum machine performances at Betamax Video Club in Washington, DC; a celebration of 80's B-movie classics and home video club culture. The duo sets the mood early in the night and after the film with live synthwave productions and improvisations influenced by synthwave, italodisco, and indie-dance styles. Additional details and cassette orders can are available on Bandcamp.
Betamax Video Club vol.1 is one of three new cassette releases by indie record label Jade Anvil Collective. All cassettes are professionally produced, super ferric tapes with double-sided, 5-panel j-cards that contain full-color artwork, photos, and liner notes.
All three cassettes are currently available as a bundle: Buy 2 get 1 free!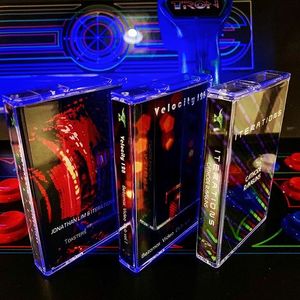 You can also catch Velocity 128 at Betamax Video Club on Sunday, February 24, 2019 at Ten Tigers Parlour in DC, and on the last Sunday night of each month.