On the cusp of our live synthesizer hardware show (at Zeba Bar, Saturday after Thanksgiving), we're getting to know our fellow electronic music artists on the bill. Many of us grew up playing in bands then moved over into electronic music production and DJing, while others came up the other way around. 
The more we get to know our fellow DC and Baltimore artists, the more we realize how much talent there is in the region, comparable to other hot spots for electronic music.
Event: DeepTech L[ive] Date: Saturday, 27 November 2021 
Venue: Zeba Bar, 1423 14th St NW Washington, DC 
Description: A night of hardware and modular synthesizer performances
Artists: Marie Ann Hedonia, Velocity 128, Ri Caragol, Moises Duran
Thanks to DeepTech L[ive] by way of Kim Thompson (SPCLK) and Ri Caragol for putting the show together!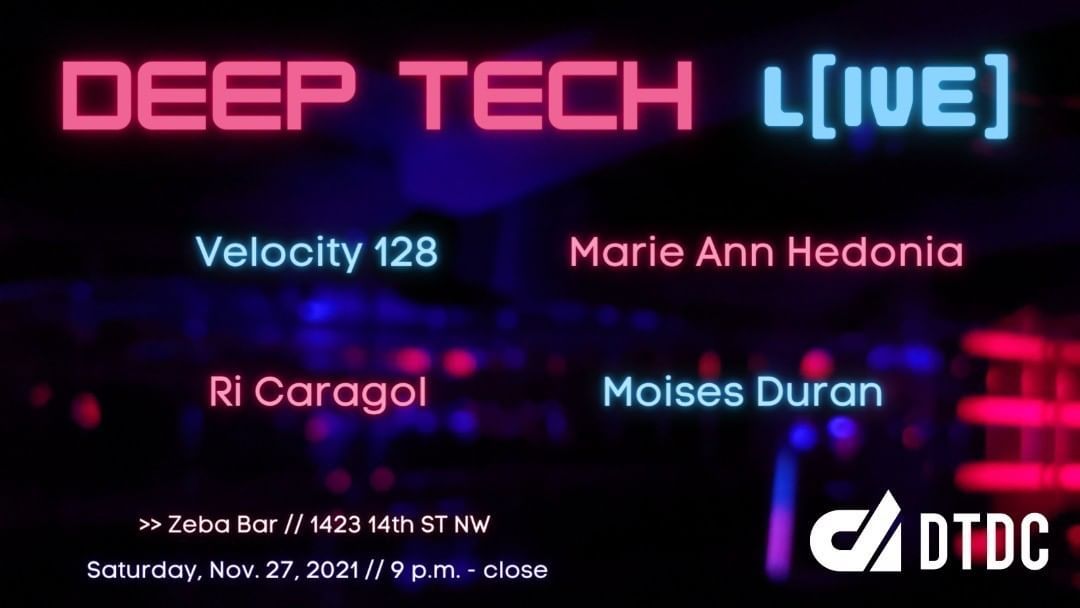 Q1: How did your current live setup take shape compared to when you started?
Marie Ann Hedonia: Oh, man. My live setup isn't really a live setup per say, it changes with each show I do. Before the show, I make a patch with my full system and pare it down into one system and repatch prior to the show.
Ri Caragol: I've always been into the more "live" aspect of electronic music. I remember seeing my first "Live PA" all the way back in 1998 and just being mesmerized at how The Atomic Babies performed electro music live on stage. For many years, I performed using an Akai MPC, a synthesizer, an FX box such as a Kaoss Pad, and a mixer. But for the past two years, I've been getting really into modular synthesizers, its sonic possibilities, and the improvisational aspect this medium facilitates.
Before modular, I always knew how my live performances would evolve, they were more defined, so to speak. There was always a level of improvisation but about 60% to 70% of the performance was static. The sound palette was somewhat static, patterns were defined, although sequenced on the fly, and songs had quite a bit of structure. However, with my new modular setup only about 30% of the structure remains static and everything else around it is improvised. This keeps me engaged and very focused throughout the performance. It can be nerve-wracking because anything can happen, but therein lies the excitement. Another great thing about the modular setup is I never know what my oscillators will produce. I may know certain oscillators produce certain tones, but it is up to me to tame those tones and mold them into something that can work right there and then.
Moises Duran: I started working on my setup about four years ago when I bought one Moog Mother32. I always had an idea of exactly how I wanted to put together my rig. I used to be in a rock band and used lots of different effect pedals to add modulation. I don't believe I'll ever stop obtaining more equipment. There's no comparison to the rich full sounds of the instruments in a live setting with synthesizers, especially for techno.
Q2: What is your approach to performing live? All improv or structured setlist? Mix of both?
Marie Ann Hedonia: Structured tracks with a lot of improv mixed in.
Ri Caragol: My modular patch is driven by two main sequencers. These sequencers have memorized in them a series of pre-programmed patterns I have designated as the backbone of my performance. On top of that, I have three oscillators that I manipulate on the fly, generating new, semi-random patches as I bring in and out the rhythm sections of the case that acts as a drum machine. This makes for a heavily improvised set that can take turns in unexpected ways, but if things get too crazy, I can always wrangle the system and go back to the original idea.
Moises Duran: My approach to music as a whole is a journey. Different towns bring different experiences. Every time I start a performance, it's always improv and may take that vibe until the end of my performance. Only a few instances have chord progressions I like to follow.
Q3: What musical or artistic influences are most relevant to your live show?
Marie Ann Hedonia: I would say techno, dark techno and industrial music. And lots and lots of bass.
Ri Caragol: I've been really enjoying Surgeon's live Techno sets. He has a very minimal setup of just one modular case and he can perform with that for hours on end. His less is more approach really brings out that minimal hypnotic techno aesthetic we all love so much. Lately, I have also been enjoying Locked Up Club's Techno productions, very dirty, industrial, and in your face - no apologies accepted.
Moises Duran: Before performing, I like to clear my mind and listen to music I usually don't listen to or have forgotten about. That way, I have fresh inspiration being transferred to deliver a completely new experience for the audience. I would say my arrangement of sounds is influenced by the structured randomness of jazz mixed with techno sounds.
Q4: Anything you'd like to promote such as upcoming releases, projects, or gigs? Shoutouts to other folks in particular?
Marie Ann Hedonia: My husband and I have a new project called Mismatched Lids, releasing music this Winter.  I also have my latest album on Bandcamp. You can also listen on my Spotify page, Marie Ann Hedonia. I'll also be playing at The Depot with some Baltimore peeps on December 17th!
Ri Caragol: I should be putting out a self released EP or two on my Bandcamp page before the end of the year. It was a new year's resolution to do so and 2021 is about to end, so I better get on it. Besides that, I am really excited for November 27th's show. I hope 2022 brings more Live Hardware shows, I've been noticing more and more people playing live, which is great.
Moises Duran: Currently putting together a series of continuous track albums. Set to release on 2022. Also working on video synthesis that can be modulated by the frequencies sent from my modular setup making an interactive sound and visual experience.
From yours truly
Velocity 128: Our latest series of 80s B-movie and synthwave events with Betamax Video Club has gone well at our friendly neighborhood punk bar, Slash Run, in Northeast DC. We've gotten along great with the staff there, who share our tastes in retro cinema and music. We also have a number of finished yet unreleased tracks that we'll be rolling out soon.
Meanwhile, for this Thanksgiving Saturday show at Zeba Bar, Eric (Iterations) and I will be bringing a combination of Roland Boutique modules, the TR8s and TR-08 drum machines, DeepMind 12, Ableton Push2, and Sequential OB-6 all summed into a Xone:PX5 mixer. As usual, we'll be mixing hardware synths with audio clips from hardware and other sources we've produced in the studio that we don't bring out with us. The parts we play live will be improvised to a certain extent so we can play around within the theme of each song.