Looking back to October 2019, Jade Anvil Collective released the "Marauders" single by Iterations along with remixes from Sid Waters and Jonathan Lim.
Iterations - Marauders (Original Mix)
When it was released last year, "Marauders" became the fourth solo work by Iterations (Eric Garwood) on Jade Anvil Collective, not counting additional collaborations as Velocity 128 or others.
How the idea began according to Iterations:
"This track started with an arp generated with the DeepMind 12's arpeggiator, sent into a Roland Boutique D-05. The main bassline was played on my (now sold) Juno-106. The melodies and counter-melodies are all played on the JU-06, JP-08, and the DeepMind 12. There's also a couple spots with Arturia's Synclavier V. Drums were all step-sequenced using the TR-8S (for TR707 sounds), and the TR-08.
I write each alternating part in Ableton's session view as individual scenes (all as MIDI clips), then dump it all out as an arrangement. I don't record any actual audio until the arrangement is 100% done. This does mean that each synth can only be used once. I feel like it's easiest to get the arrangement just the way you want it while working with MIDI."
This track almost didn't happen:
"I had never heard of [the term] Italo disco when I made this song, which in my opinion, was a throw-away, and I believe I called it 'goofy.' I played it for Jon[athan Lim] for a few laughs, and he told me it was Italo disco. I was then introduced to Giorgio Moroder via his alter ego, Morgio Zoroger:"
Note: "Live at the Necropolis: The Lords of Synth" is a great spoof of synth legends Giorgio Moroder, Vangelis, and Wendy Carlos with a reference to Yanni's "Live at the Acropolis." It's wonderfully ridiculous!
While Iterations claims he never heard it called "Italo disco" before that session, he definitely heard the music from multiple Tour de France videos (he was a competitive cyclist for a time) along with the space disco scenes in Buck Rogers and other sci-fi shows of that era, or Donna Summers songs he may have heard.
Iterations: "I later named the track "Marauders" as both a nod to Giorgio, and keeping with my Buck Rogers theme (the pirate ships in Buck Rogers are called Marauders).
Oh, and that 'goofy' track is now my third most popular on Spotify, so thanks Jon, [otherwise] it would not have been released." 
Access the music links here: https://smarturl.it/hkhfhl
You'll see Iterations performing live on his Twitch channel and on a monthly basis with our synthwave duo, Velocity 128.
Marauders (Sid Waters Remix)
We first met Sid Waters (D'Mitriy) at the initial Headroom Listening Sessions at Flash (Washington, D.C.) in November 2016. The progressive house and melodic techno producer & DJ immediately made his presence known with his undercutting humor, especially when critiquing his own tracks. What immediately got my attention on his productions were the cinematic sci-fi influences reminiscent of Blade Runner, although produced for the dance floor. He was quite prolific with a record-high 12 consecutive months of submissions to start the first year of the Headroom sessions.
Sid Waters' initial response for his take on this remix:
"Oh mannnn haha you don't wanna know what I write about my tracks to [Headroom founder] Chadwick when I send them in." [Edit: Removed some undercutting self-critical comments] "I'd generally describe my remix as a galactic melodic techno take on a funky mustache-wearing italo disco track."
Agreed. He went on to describe the ideas behind the creative struggle:
"I had absolutely no idea what I was going to do with the track when I first heard it, because it was such a far departure from the kinds of stuff I had attempted to remix before, so I definitely panicked a bit, as I had already promised to do the remix and am not keen on backing down from a challenge.
I think I might have avoided it for a couple of weeks, and as the deadline was approaching, I decided I needed to confront it head on and essentially spent a few days revisiting it. Then, one random night, with maybe 3-4 days to go, it just all came together like a beautiful accident (much like anything I've ever made that I actually like listening to after making it). So much to my delight, I polished this accident off for a couple more nights, and sent it off... only to wait for a certain someone to take another 4-5 months to finish their remix lol. [Edit: Yes, guilty. The "Jonathan Lim remix" took a while. Ha!]
But all in all that was a good thing, because had I known that I had more time, I would have sat on it for much longer since I'm a chronic procrastinator and seem to sadistically enjoy working under pressure. You know the whole saying about diamonds and blah, blah, blah.
And there it is! Feel free to use any of that blabber for the blog."  Very well. Made it so!
As for technical details, Sid Waters used a combination of Arturia's Jupiter 8 as the workhorse, Modular, and CS-80, U-He's Diva VSTs, and a few stems from the original mix.
The Sid Waters remix of Marauders aired on the Electrocurated radio show #73 on artefaktorradio.com.
Marauders (Jonathan Lim Remix)
Like Sid Waters, I also had some struggles coming up with musical phrases that would work as a remix. I knew it needed a faster tempo to make it more danceable. From there, I used one melodic element from Iteration's original track and jammed with my own synths (Dreadbox Erebus, Output Signal, lots of Native Instruments Komplete and Ableton devices). I chopped up some of Iteration's original drums and layered them with Ableton and Battery kits. The new element (at the time) was my Elektron Analog Heat distortion box used as a send/return effect for a subtle amount of saturation.
For the mix, I listened for overall dynamics, punchiness of the drums, clarity of the synths, and how much more I could push the wet effects. For the arrangement, I went back and forth with how long to keep the strings going in the second half before trading measures with other instruments (call and response).
I finished the first mix following our Velocity 128 trip to San Diego to meet up with fellow Headroom alum, Mr. Wright in the summer of 2019. That was our first out of town show in addition to one of my DJ gigs. This was in the middle of working on some acid techno and acid house singles as well, so my "Marauders" remix fit that vibe.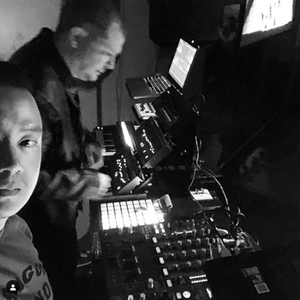 The Jonathan Lim remix of Marauders aired on BPM/Beats/09 radio show on artefaktorradio.com.
All tracks on "Marauders" were tested on the Funktion One sound system at Headroom Listening Sessions and  mastered by Scott Radke at Sonic Impact.
Links
"Marauders" music links portal
Iterations on Twitter
Sid Waters on Facebook
Jonathan Lim bio
Jade Anvil Collective on Bandcamp
Electrocurated radio
BPM Beats radio
Velocity 128 on Twitch
Headroom Listening Sessions on Facebook